It's one of those surrealistic images you view pre-dawn on Late, Late night programming or a UHF religious station. A man in dubiously decorated military attire barks at the camera and gestures powerfully.
"Is your son a sissy? Has he gone down so much he has stretch marks on his forehead? Is the only way he'll sit on a stool is by turning it upside down? Has your parish priest seen more virgin dick than a urinal at a Star Trek Convention? Or perhaps your daughter has examined more vaginas than an overworked gynecologist? Then they need to be enrolled in- Dr. Marcus Bachmann's Hetero House: Where Gay is a four-letter word."
Yes Folks..he's back the ironically light in the loafers, husband of failed GOP Presidential Candidate, Michelle Bachmann. Although his effeminately makes Quentin Quisp look like NFL Hall Of Famer, Jim Brown, Bachmann vows he can cure your homosexuality through his stable of Midwest "Hetero Houses: Homosexual Reconditioning Centers".
The man who once famously referred to gays as "Barbarians that need to be educated. That need to be disciplined!" has produced an infomercial that promises to turn "Butches into babes and gay men from GLEE-bound to Pussy Hound."
As our host, the "General" reminds us in a fore brooding tone "There is no greater abomination against God then Homosexuality? It will lead to nothing but internal damnation!" On cue are elliptical animated images of various queer stereotypes being tormented with a pitchfork by 'Ol Beezlebub himself.
The "General" promises that only the latest and most sophisticated techniques are employed at HETERO HOUSE. This includes intimidation-a male "patient" is berated by a doctor who screams "Filthy Faggot" at him while a lesbian is smacked around with a raw fish by a female councilor who intones "Do you like that fishy smell? HUH?"
Not surprisingly, the mind numbing conformity of military training is employed as well. The infomercial shows our "patients" in military gear prodded by our General into marching and barking such military cadences as "DO LIKE DAD...NOT LIKE SIS...LIFT THE SEAT BEFORE YOU PISS" or the much catchier "HETEROSEXUALS CAN'T BE BEAT..SO DON'T STICK YOUR MEAT IN MY SEAT"
Still Bachman and his Patton-esque front man believe the best cure is to "Pray away the gay and offer patience and guidance". No better example of patience was demonstrated, when a Hetero House "Drill instructor" barks to two of the "infected" members of the opposite sex. To "Fuck like straight people!"
The "couple" seems confused, then get on the bed. She gets in a top missionary position, but he gets on all fours.
"No, no, no, Tinkerbell. You are on top facing her. Its missionary, remember?" fumes the D.I. doppelganger!
In a eureka moment, the duo "get it" and reposition themselves, each aggressively jockeying for position until both collapse into exhaustion.
But Bachmann and his twisted acolytes maintain a sort of smug self satisfaction on their "success" rate, believing the proof of their heterosexual pudding are the testimonies from the happily "straightened" graduates. The video closes with two powerful testimonials-the first from an average "cured" housewife, a taller than average domestic servant who identifies herself as "Amanda Pepperidge".
"You may not believe this", intones the woman, "but just 4 years ago I was a full on lesbian. I was munching more carpet than dust mites! But once I committed myself to Dr. Bachmann's facility I prayed away the gay and today I'm the happily married proud mother of 2 twin girls!"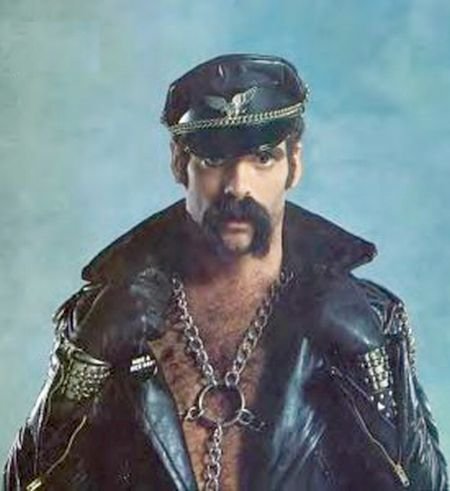 Amanda Pepperidge, 41, claims Bachmann "cured" her of lesbianism
As if to emphasis the domestic bliss, Mr. Pepperidge enters the scene to remind his love that an episode of Xena is starting on television.
But "Doc Bach" saves his biggest endorsement for last! None other than the disgraced preacher Rev. Ted Haggard who offers his sincere take on Hetero House as he sits hand and hand with Mrs. Haggard. Cue the soft lighting and tear jerking rising organ in the soundtrack.
"I once was lost in a sea of confusion and unnatural desires." Declares the rev!
"He was" agrees his wife.
"My affinity for large, muscular men that charge By the hour cost me my place in the Republican Party, my congregation, and almost my family."
"It did" says Mrs. H
"But then 'DR. BACHMANN'S HETERO HOUSE' put me through their boot camp. I learned just because something has been around as long as I can remember and it seems right, it may not be, if that thing is the overpowering urge for man-on-man love."
"He did" says Mrs. H
"Now, Thanks to Hetero House, I once again have a church, my self-respect, yet still something that never really left."
"It didn't?" queries the wife.
"My wife and family. What? What did you think I meant?"
"I meant, it didn't!! Meaning us." Offers the wife with a nervous assertion.
Doc Bach makes his intolerance and bigotry seem so normal and comfortable we can only wish that the good physician -he of the shaky masculinity- becomes comfortable enough to one day heal himself.